Today, we sat down with National Breast Cancer Foundation Community Ambassador Katherine Hronopoulos to find out more about her personal breast cancer story.
Married with two boys, Katherine was just 38 years old when she scratched the left side of her breast one night and found a lump. Checked by her doctor, she was sent for a biopsy that confirmed her worst fears, Katherine had breast cancer (HER2 positive).
She was diagnosis on 23 March 2017 and on 4 April Katherine she had lumpectomy surgery, where the tumor and surrounding tissue was removed. Katherine then started chemotherapy the week of Mother's Day, followed by 30 sessions of radiation. Needless to say her family and friends were all in shock at the speed in which everything happened.
With a million and one questions Katherine reached out to 'Dr. Google' which not only was she bamboozled with horror stories but also with too much information. Feeling totally lost and with so many questions, she put all her trust into her Breast Surgeon, Oncologist and Radiologist as well as a friend who was also on her own Breast Cancer journey.
In asking about her holistic approach towards taking care of her health Katherine explains, "once reality hit I cut down eating red meat and fried foods, cut down on sugar as best as I could and became more aware about what we ate as a family.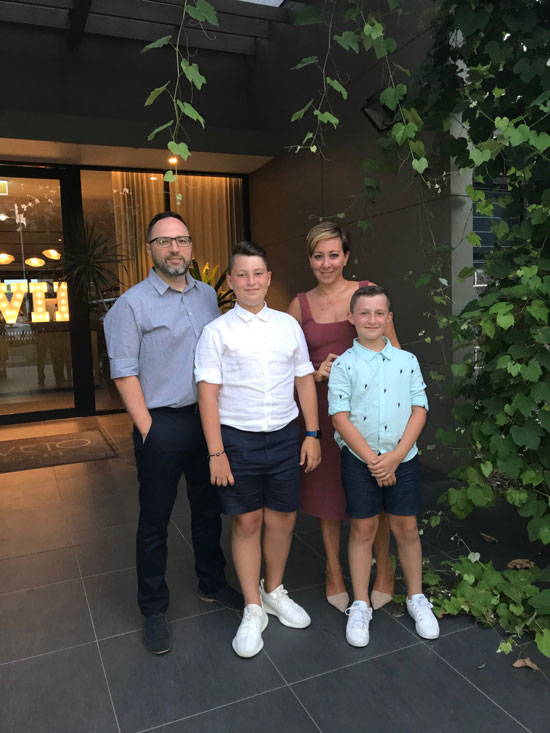 "Katherine claims an effective non-toxic deodorant was really difficult to find."
The loss of appetite was no surprise, so early on I purchased a cold press juicer and used all kinds of fresh fruits and vegetables each morning, this helped to keep my immune system as healthy as possible." Katherine's husband and sons also joined her picking up healthier eating habits along the way. "I really wanted to be a good role model to my kids with the type of foods that we ate as a family" she says with conviction.
As best as she could Katherine also tried and go as 'natural' as possible, purchasing eco-household products, replacing her shampoo and soaps, however the products were not always as effective as she had hoped. She also bought many different deodorants.
"The chemo really heightened my body odour especially under the arm that wasn't being treated." recalls Katherine. "I was told by my doctor it was compensating for my other arm pit that was being treated, and the release of toxins felt really sticky and stinky.' Not knowing about Black Chicken Remedies Axilla Natural Deodorant Paste at the time and aware of the relationship between the armpit and the breast tissue, Katherine claims an effective non-toxic deodorant was really difficult to find.
For Katherine losing her hair to chemo was her worst side effect to cope with. "People looked at me differently. I looked sick, I felt sick and I definitely didn't want my children to see me without my scarf or wig on. I felt like I had lost my identity."
Today however she is much healthier in her remission, working as a teacher with her family following a keto diet including a lot more green vegetables. 'I am in a good place" says Katherine happily and my role as a NBCF Community Ambassador is really important to me. I signed up so I can give other women out there the inside story on what to expect each step of the way, plus a whole lot of other helpful tips."
Katherine also commends Black Chicken Remedies on what they are doing during Breast Cancer Awareness month in raising important funds for research. "Awareness is everything and NBCF partnering with a 100% natural Axilla Deodorant Paste that's toxin free and actually works, makes so much sense!"
Black Chicken Remedies is proud to support the National Breast Cancer Foundation by donating $2 for every Pink Edition jar sold of Axilla Natural Deodorant Paste in Original and Barrier Booster for sensitive skin formulas.
---