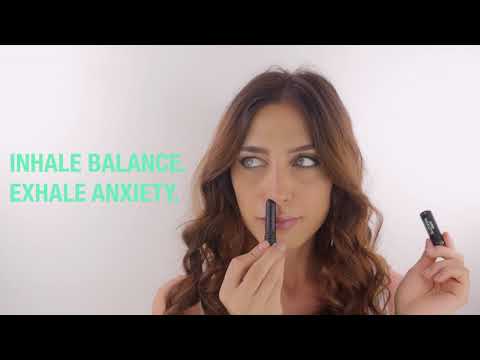 Voyage Nasalette™ Natural Essential Oil Inhaler
A Nasalette™ is a pocket sized essential oil inhaler for on the go relief and rejuvenation. The Voyage Essential Oil Nasalette™ contains 100% essential oils chosen to relieve symptoms of nausea and travel sickness, and calm nerves when flying.
Relieves nausea and symptoms of motion sickness
Calming and relaxing effect to ease nerves and aid sleep whilst flying
Boosts your immune system
100% natural, non toxic blend
Inhale calm, Exhale imbalance
Ginger has long been renowned for its ability to ease feelings of nausea and the anxiety that can come with motion sickness. Blended with Lemongrass and Eucalyptus to boost immunity, calm your mind and lift your mood; this is a beautiful blend to nurture yourself with if you experience feelings of worry or sickness when you travel...
Using a Nasalette™ Essential Oil Inhaler as a natural way to alleviate travel anxiety and sickness is a great way to support your nervous system without adding to your toxic load.
Made with love in Australia.
Vegan, cruelty free, with no added water or fillers.
Don't just take our word for it, check the reviews below.
0.50ml / 0.01fl. oz
Ingredients
Ginger – Renown for its remedial benefits for nausea, the fresh spicy scent will ease anxiety and fears that can cause motion sickness whilst travelling.
Peppermint – Zesty and fresh, peppermint is the perfect mood lifter. It eases stress and works on your olfactory system to ease exhaustion and irritability.
Lavender – Is a widely used remedy for a calming, relaxed effect on the mind. It has been used for anointing and healing for centuries. Its unique properties alleviate anxiety and sleep disturbance and can help relieve the effects of depression.
Eucalyptus – Natural and fresh, eucalyptus brings a positive and uplifting energy to your mood. It can relieve muscle tension and boost your immune system to protect you from changing climates. The scent clears the head and nasal passages promote deep breathing and calm.
Lemongrass – It's light, fresh citrus power makes it a natural stimulating mood lifter and calming agent. It brings balance to the mind and promotes mental clarity.
Mentha Piperita (Peppermint) Oil, Lavandula Angustifolia (lavender) Oil, Zingiber Officinale (Ginger) Root Oil, Eucalyptus Radiata (Ecalyptus) Leaf/Stem Oil, Citrus Limon (Lemon) Peel Oil, Limonene**, Linalool**, Coumarin**, Citral**, Geraniol**, Citronellol**
Naturally occurring in essential oils**
How to use me
Place the personal inhaler tip just below your nostril. Do not insert it into the nostril.
Close off the other nostril with one finger.
Slowly inhale to a count of 5 with full awareness of the remedial scents, then slowly exhale.
Repeat with the other nostril. Repeat the procedure 2-3 times.
You can use your personal inhaler every 2-3 hours.
How to Refill: To refill a Nasalette™ Essential Oil Inhaler you can either remove the bottom panel (You need to get your finger nail between the ridged area and the very top part and it will come off - please see picture attached) or you can simply add a few drops of the oil via the top hole of the inner Nasalette™ Essential Oil Inhaler. 

If suffering from congestion or upper respiratory ailments, you can help get these under control with our Respire Essential Oil Blend developed to quickly reduce swelling and inflammation in the nasal passages. When your airways are clear, you'll be able to enjoy the remedial benefits of our other blends too.








Surprisingly effective

I received this as a free gift and I actually have nausea and anxiety daily. I used this at work when I felt like a refresh and it is so nice. It clears the airways and instantly brings a sense of calm.
I'll definitely continue using it!

Great concept!

I purchased one of these for flights - Anxiety on planes often takes over me so I like to be prepared, especially for business travel. While I do take ginger chews I find this calms my mind, which stops nausea brought on by anxiety. It's soothing and smells good, blocking that stale air scent planes often smell like.
I just realised it's refillable which makes me so happy! I'm about to pick one up for my brother who is taking a long haul trip.

-->