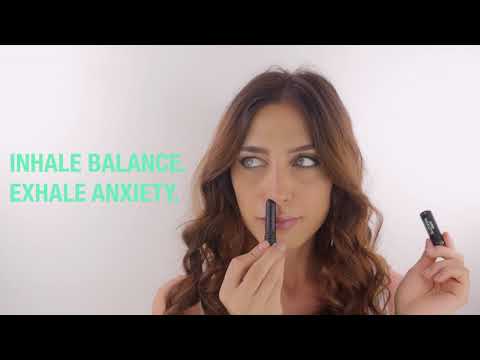 Zone Nasalette™ Natural Essential Oil Inhaler
A Nasalette™ is a pocket sized essential oil inhaler for on the go relief and rejuvenation. The Zone Essential Oil Nasalette™ contains 100% essential oils chosen to focus the mind and eliminate distraction, promoting concentration and productivity...
Improves focus and restores mental balance
Improves concentration and boosts immune function
Great aid for studying
100% natural, non toxic blend
Inhale focus, Exhale distraction
Help yourself get in the zone whenever you need to by using our blend of natural essential oils, including Patchouli, Bergamont and Basil which are renowned for combating fatigue and improving concentration. Using a Nasalette™ Essential Oil Inhaler as a natural way to gain focus is a great way to support your nervous system without adding to your toxic load.
Take your Nasalette™ Essential Oil Inhaler anywhere and refill when you need to with our Zone Essential Oil Blend.
Made with love in Australia.
Vegan, cruelty free, with no added water or fillers.
Don't just take our word for it, check the reviews below.
0.75ml / 0.03fl. oz
Ingredients
Patchouli Essential Oil – Helps to reduce anxiety and acts as a tonic and anti-inflammatory
Bergamot Essential Oil – Relaxes the nervous system, sharpens senses and improves mental clarity
Basil Essential Oil – Helps with stress management, combats fatigue and uplifts spirits
Lemon Essential Oil – Helps to improve concentration, boosts immune function and improves mood
Cypress Essential Oil – Helps in relaxing the nervous system, aids toxin removal and helps to relieve anxiety
Juniperus Communis (Juniper Berry) Fruit Oil, Citrus Bergamia (Bergamot) Peel Oil Expressed, Pogostemon Cablin (Patchouli) Leaf Oil, Ocimum Basilicum (Basil) Oil, Cupressus Sempervirens (Cypress) Leaf/Nut/Stem Oil, Cedrus Atlantica (Atlas Cedar) Bark Oil, Citrus Limon (Lemon) Peel Oil, Limonene**, Citral**, Citronellol**, Linalool**, Cinnamal**, Eugenol**, Geraniol**
Naturally occurring in essential oils**
How to use me
Place the personal inhaler tip just below your nostril. Do not insert it into the nostril.
Close off the other nostril with one finger.
Slowly inhale to a count of 5 with full awareness of the remedial scents, then slowly exhale.
Repeat with the other nostril. Repeat the procedure 2-3 times.
You can use your personal inhaler every 2-3 hours.
How to Refill: To refill a Nasalette™ Essential Oil Inhaler you can either remove the bottom panel (You need to get your finger nail between the ridged area and the very top part and it will come off - please see picture attached) or you can simply add a few drops of the oil via the top hole of the inner Nasalette™ Essential Oil Inhaler. 

If suffering from congestion or upper respiratory ailments, you can help get these under control with our Respire Essential Oil Blend developed to quickly reduce swelling and inflammation in the nasal passages. When your airways are clear, you'll be able to enjoy the remedial benefits of our other blends too.








Helps with my anxiety

And smells absolutely marvelous.

-->