A million things are running through your head when you're expecting. But something that you might not be thinking about while growing your bundle of joy is your deodorant. Pregnancy deodorant is a thing. Should you be making the switch to non-toxic and all-natural?
Thanks to raging hormones and weight gain, many women feel overheated and uncomfortable throughout pregnancy, which means you may reach for your deodorant stick more often. Deodorant helps keep you feeling fresh, even when pregnancy symptoms are at an all-time high. But is your deodorant safe for you and your baby? Most traditional sprays and sticks no longer fit the bill.
There's a new generation of deodorants in town. It's time to shake up your deodorant routine for a safer, non-toxic version, so read on to find out more.
Why Should You Choose Natural Deodorant During Pregnancy?
Science shows women should use safe pregnancy deodorant. But why? Rubbing questionable chemicals on your body is never a great idea, especially when you're pregnant. Large deodorant brands are probably using a lot more problematic ingredients than you'd think. From growing concerns that aluminum may lead to cancers and other diseases to parabens and propylene glycol, which are linked to numerous health issues, seemingly harmless deodorant can be a lot more dangerous than you may have guessed. The best thing that you can do is choose safer options.
It's time to get on with another not-so-stinky day.
FREE guide to Essential Oils



Explore the uses and benefits of essential oils with our free, quick-read guide!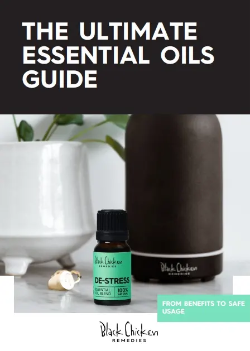 8 reasons why you should consider making the switch
#1. Say Bye-Bye to Toxins. When you apply traditional deodorant, your pores and sweat glands become blocked. As a result, the deodorant makes it difficult for toxins to escape your body. However, you can help prevent troublesome toxins from building in your body when you use pregnancy-safe deodorant. Some of the most harmful toxins found in deodorants that pregnant women need to be aware of are aluminum salts, parabens, and phthalates.
Aluminum salts are what prevents your body from sweating. Without the ability to sweat from your pores, the toxins stay in your body. Parabens inhibit mold and bacteria from growing; however, they can mimic estrogen and mess your hormones up. Read more about that in #3.Phthalates are just as difficult to avoid in traditional deodorants as they are to pronounce. This chemical is also a hormone meddles that can affect fetal development in pregnant women. There are many studies showing toxins in the placenta: https://www.scientificamerican.com/article/newborn-babies-chemicals-exposure-bpa/
#2. Reduce Exposure to Harmful Ingredients. When you're expecting, you try to avoid unhealthy and unsafe things for your growing baby. No wine, no processed meats, and sadly no sushi. So why not do the same when it comes to personal care products? Especially the ones you reach for daily.
Pregnancy-safe deodorant is formulated without pore-clogging, chemical-ridden ingredients to help keep you and your little munchkin safe.
#3. Keep Your Hormones In-Check. For most women, hormones are all over the place during pregnancy. A lot of chemical-based deodorants contain parabens, which are estrogenic. The body confuses the parabens for estrogen, which can lead to a hormonal imbalance.
Who needs the trouble on top of all the other hormonal issues you have going on?
#4. The risk of Alzheimer's. Some experts believe there may be a correlation between Alzheimer's Disease and high exposure to aluminum. Constant exposure to aluminum salts might put you at an increased risk of Alzheimer's.
#5. The risk of Breast Cancer. The skin absorbs everything you put on it, from body lotions to facial serums and everything in between. When you use chemical-filled deodorant, the potentially cancer-causing chemicals are absorbed by your body. The fear with breast cancer and deodorant is that the armpits are close to the lymph nodes and breasts.
You can help protect yourself by switching to natural products during pregnancy and beyond.
#6. Pregnancy Deodorant is Kinder to Sensitive Skin. A lot of pregnant women are more prone to underarm breakouts and rashes. This is a typical reaction to the changes in your hormone levels and your body's major transformation. Putting harsh chemicals on sensitive skin will irritate it further.
Natural pregnancy-safe deodorant is kind to sensitive skin. In some cases, the soothing and hydrating ingredients can help calm your underarms.
#7. Better For Your Baby .Sweating is good for your body and baby. Using an all-natural pregnancy deodorant won't prevent you from sweating, but don't let that discourage you. Your body needs to release toxins and regulate your body temperature - sweating is how it does it!
Also, speaking of sensitive skin, as we mentioned in #6, you can help your irritated armpits recover faster by allowing your pores to release the toxins that are building up and causing the irritation. Just because our bodies need to sweat doesn't mean we have to stink. There are natural deodorants for pregnancy that are equally effective as they are safe.
#8. A Lot of "Natural" Products Aren't so Natural After All. The definition of natural can be a little murky in the personal care realm. Words like "natural," "all-natural," and "organic" are everywhere. However, when it comes to beauty products, the term doesn't hold much weight.
For example, the United States Food and Drug Administration has no regulations in place for the terms "natural" or "all-natural." This is all the more reason to shop around for a trustworthy deodorant brand that not only produces pregnancy-safe deodorant but can prove it.
You can help protect yourself by switching to natural products during pregnancy and beyond."
How to Choose Deodorant During Pregnancy - Quick Tips
Next time you're shopping for pregnancy deodorant, keep an eye out for the following.
Avoid Sprays - Avoid spray-on deodorants as you may inhale some of the particles into your lungs. Look for a pregnancy-safe stick, roll-on, or balm formula instead.
Essential Oils - Deodorants made with essential oils like lavender, rose, peppermint, and others help keep your underarm skin soft while keeping body odor at bay.
Good-For-You Ingredients - Instead of harsh, unnatural ingredients, try finding pregnancy deodorant formulated with healthy ingredients like soothing shea butter, moisture-absorbing tapioca starch, antibacterial coconut oil, and scent-neutralizing sodium bicarbonate.
If you notice your skin is extra sensitive during pregnancy, look for a formula made without baking soda. Kaolin clay is another powerful ingredient to absorb excess moisture and keep you smelling fresh.
Bonus points for ethically sourced and organic ingredients!
No "F" Word - In this case, we're talking about synthetic fragrances. Many artificial scents include carcinogenic ingredients and other known chemicals linked to cancer, congenital disabilities, central nervous system disorders, and allergic reactions.
Not to mention your heightened sense of smell during pregnancy. Fewer chemicals and no funky synthetic odors should help your pregnancy nausea or morning sickness.
Is Using Deodorant Safe for Breastfeeding Moms?
What about after you give birth? When you apply deodorant, the ingredients can be absorbed by your underarm skin and reach your bloodstream and breast milk supply. As a result, whatever toxins you're taking in are passed on to your baby. Additionally, the concentration of high fat in protein in breastmilk can attract heavy metals and other contaminants.
If you have a wiggling baby who tends to put their hands everywhere during feeds, including your armpits, there's a risk the baby will touch the harmful chemicals on your skin. As we all know, babies can't resist putting their hands in their mouths. The risk goes up if you use a spray-on deodorant as well. Spray bottles tend to spread the product onto other body parts, like the breasts and arms.
What We Know About Breast Milk & Babies
Babies are universally adorable. Their tiny squishy bodies make us melt. But this also means that even small amounts of toxins and chemicals can impact them. For this very reason, it's all the more critical for any breastfeeding mommy to be extra cautious of her beauty regime. We're not just talking about deodorant either. Look at all of your personal care products. You never know what ingredients your body may be unknowingly ingesting.
Most pregnancy deodorants are also safe for breastfeeding. If you have any questions or concerns about a product, always consult your doctor.
Pregnancy Safe Deodorant in Australia
Axilla™ Natural Deodorant Paste - Original (For all skin types)
Aluminum has earned the reputation as public enemy #1, but other common toxins like parabens, phthalates, silicones, synthetic fragrance, and alcohol are making their way onto the "naughty list." So what does that leave us with? Plenty of options, actually!
Our multi-award-winning Axilla Deodorant Paste is vegan, non-toxic, cruelty-free, and safe for expecting mothers and their growing bellies. The Axilla Deodorant Paste is made locally in Australia with good for you (and baby) ingredients like baking soda, shea butter, and coconut oil.
Axilla™ Natural Deodorant Paste - Barrier Booster (For sensitive skin)
Is your skin feeling extra tender or sensitive during your pregnancy?
Our Axilla Barrier Booster Deodorant Paste is an effective bicarbonate-free deodorant for sensitive skin. We use ingredients like magnesium hydroxide, an antibacterial that calms the skin and improves cellular processes, and organic vegetable glycerine to absorb moisture and hydrate skin.