Winter is nearly here! And just as the seasons change, so does our skin throughout the year.
There's nothing we can do about winter except enjoy the best of it – but there's a lot we can do to reduce its potential to damage our skin.
---
It's important to treat your skin according to the season. With winter upon us, I wanted to share my top tips for maintaining glowing, vibrant skin in the cooler months.
In winter, depending on where you live, the temperature and humidity drops anywhere from marginally to severely. If you're inland and at higher altitude, it's likely that the change in weather is quite extreme. For those of us in coastal regions, we get some extreme onshore winds that can be highly drying. Moreover, in winter we tend to go between cold outdoor climatic conditions, and heated indoor environments. The sudden change in temperature can affect the capillaries and leave you looking flushed with pink cheeks. Sound familiar?
As well as the stress of sudden temperature changes as we move from inside to outside, lower temperatures also increase the risk of dermatitis, eczema and other skin conditions. This is because our natural skin hydration function is affected by the cold.
Those cooler temps can also make it very tempting to turn up the heat in the shower or bath, but it's a fact that too much hot water can strip the skin of its natural oils. It's far better for our skin if we keep the water temperature moderately lukewarm and keep the showers short. Exfoliating with expertly combined natural ingredients and therapeutic essential oils gives us even more of an energy boost! We put the heater on in our cars, homes and offices. We go out into cold winds and low temperatures, and often low humidity as well. Did you know that these factors can lead to more than a 10% moisture loss in your skin?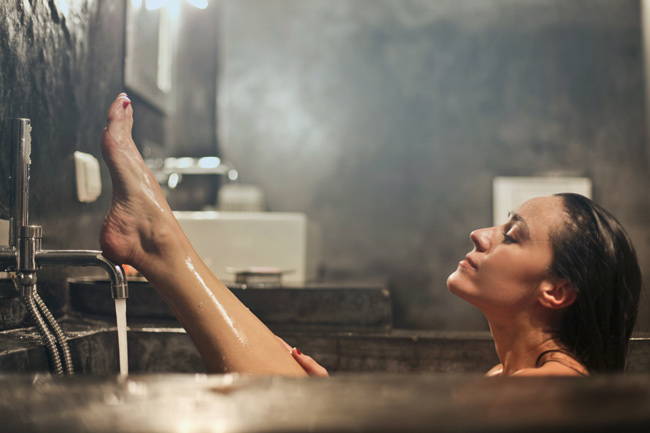 Why does our skin become drier in winter?
---
Winter conditions can cause accelerated loosening of the lipid barrier on unprotected skin, leading to drying, tightening and reddening. Skin is the biggest organ of the body. It's also the last to receive moisture as the body prioritises vital organs over skin. So although you may feel less thirsty in winter due to the temperature being cooler, for your skin's sake, you actually need more hydration.The outer layer of skin, the epidermis, naturally produces a protective coat called natural moisturising factor (nmf). this natural skin barrier function helps to keep skin hydrated, but in winter many of us become nmf deficient, particularly on our hands and on our face as the main areas exposed to the elements.
Low temperatures and humidity changes have a negative impact on the production of NMF, which is responsible for keeping the outer-most part of the epidermis, the stratum corneum, hydrated.
As a side note, NMF is also affected by chemicals in many mainstream moisturises and shampoos, which is why sometimes your moisturiser can be doing more damage than good by removing natural hydration (amongst other things). Sodium lauryl sulfate is one of the chemicals commonly used and we talked a little about its harmfulness in last month's blog post.
Cold weather and skin texture
---
Cold weather also affects skin texture. In a recent Danish study, an increase in Dermal Texture Index (DTI) was observed in study participants over winter when compared with summer. DTI is a measure of the texture of outer skin cells, or the corneocyte surface texture. Do you ever feel like your skin is 'weathered'? This is due to an increase in DTI and changes in skin texture. But don't worry, there are ways to reduce and mitigate this and maintain healthy glowing skin all through winter.
Three steps to winter-proof skin
---
There are three simple things that you can do to maintain your skin during winter:
Exfoliation – to remove dead skin cells and rejuvenate the skin surface.
Hydration – as your skin is exposed to more extreme weather conditions, it needs added moisture.
Nourish – just as we need nourishing foods to build our immune system in cooler months, our skin needs added nourishment as well.
---
Skin is delicate, and some exfoliants are way too harsh for our skin! Exfoliating is a method of removing dead skin cells, but what you don't want to do is remove alive and thriving cells at the same time. Moreover, many mainstream exfoliants contain harmful chemicals which leave the skin stripped and exposed.
Not only that, did you know that many exfoliants are harmful to the environment? Micro beads, which are used in many mainstream products, have devastating affects on ecosystem as they make their way into waterways and oceans and are ingested by marine animals. This is not good news since micro beads are dangerous and deadly.
A good exfoliant should draw on micro milled ingredients and will gently remove outer cells while stimulating growth of new cells. We use ancient ingredients including rice, argan and myrhh powders which polish the skin and even-out skin tone (mitigating the risk of increased DTI). These natural ingredients also increase circulation and stimulate cell renewal.
If you haven't tried our Complexion Polish, it's been voted Best Exfoliating Product in the Beauty Shortlist Awards (bragging rights, I'm pretty proud).
But I'm not the only one who thinks so…
"Customer review: This complexion polish is by far the best one I have come across. It works well without being too harsh on my skin. I use 2 or 3 times a week, depending on how my skin feels, and have noticed an improvement in my skins appearance."
Then for the rest of your body our transformative body exfoliator Love Your Body Polish combines our famous Love Your Body oil with Himalayan pink salt in an organic blend which removes dull, old skin cells, reduces age spots and scars, and stimulates regeneration in your skin.
For when you need a little more R&R Ayurvedic-style, dry brushing is the self-love tool you'll want to keep in your arsenal. Dry brushing is essentially exactly what you'd probably think it is. It's brushing dry skin with a dry body brush in a particular pattern before you shower. Our Ayurvedic dry-brushing Garshana Dry Body Brush not only feels great but also helps the body rid itself of cellular waste. Garshana directly translates to "friction by rubbing" in Sanskrit, so we thought the name was totally fitting. Give yourself a rubdown to experience the combination of a soothing massage and thorough exfoliation.
---
Drinking extra water is a good start, but it's not enough to maintain your most glowing complexion in winter months. As mentioned above, water will be prioritised to vital organs and your skin is the last to be hydrated. Your natural moisturing function is also compromised by the cold weather, so applying hydration directly to the outer layer of skin is really important.
Moreover, it's important to hydrate with natural ingredients which are good for your skin and can penetrate the outer skin layer and provide nutrients that can be safely absorbed into the bloodstream.
Our blog post on prepping skin for Spring touched on the reasons why essential oils work best, and our favourite product is our Love Your Face Serum.
We've put together all our favourites for beautiful facial skincare for winter in our Love Your Face Pack.
To nourish your body we made Love Your Body Oil because we wanted a product to detoxify and nourish our skin, and to get the real health benefits of toxin-free ingredients. A truly luxurious body oil that delivers a gorgeous sensory experience you can enjoy every day while you reap the measurable health benefits of natural ingredients
---
Your skin is now primed and ready for extra nourishment. Often some areas such as our lips need a bit more nourishment and our Balm of Ages™ is perfect for this. As well as essential oils, it contains ingredients such as Arnica – a natural remedy for reducing redness and can be used to treat skin conditions like acne.
Then for a weekly treatment our Cacao Revelation Mask has been formulated to help breakthrough the cycle of problem skin addressing oily, dry or acne prone areas. Raw, organic cacao is packed with antioxidants that repair skin and reduce inflammation, promoting healthy cell growth. Combine that with natural clays and organic aloe vera powder and you have a powerful facemask that purifies skin and restores moisture in only 20 minutes! The clay works to detox and the cocoa delivers an impressive amount of antioxidants; together they work to reduce inflammation, stimulate circulation, treat acne, and soothe irritation resulting in a smoother and more radiant look.
So how can you support your skin for the challenges winter brings?
---
For winter-proofing your skin, here's a list of our most popular products you might like to try:
Exfoliation:
Complexion Polish – especially designed to maintain smooth skin texture and even skin tone, increase circulation and cell activity plus stimulate collagen production.
Love Your Body Polish – with Himalayan pink salt in a unique body polish to help remove spent cells and increase blood circulation – stimulating new life into your skin.
Garsharna – Ayurvedic dry-brushing buffs away dry and dead skin cell's on the skin's surface leaving softer, healthier-looking skin.
Hydration:
Hydrate My Face – a multi-tasking toner, that instantly hydrates and plumps up tired skin.
Love Your Face Serum – highly concentrated to deeply nourish, our serum absorbs instantly whilst still allowing your skin to breathe.
Love Your Body Oil - a super hydrating body oil applied daily provides a deep penetrating, skin boosting combination of therapeutic natural oils can support and maintain the skin's precious lipid layer, helping to seal moisture in and keep winter out.
Nourishment:
Balm of Ages™ – for those drier areas needing extra hydration, our balm is a multi-remedial moisturiser that deeply nourishes, restores and protects skin.
Cacao Revelation Mask – to even skin tone, stimulate blood circulation, soothe and refine complexion and it even helps to treat acne and problem skin.
So embrace the cold and enjoy winter!
Chey x
---
---