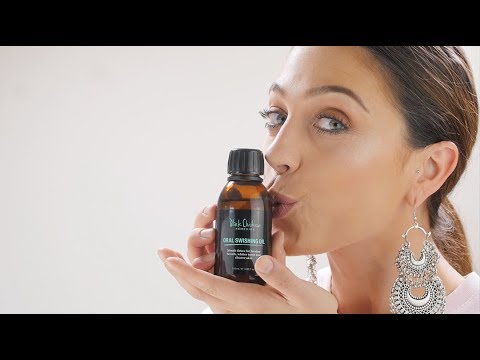 Oral Swishing Oil - Oil Pulling Oil
Oral swishing (or coconut oil pulling) has been proven to draw out oil-soluble toxins from your body, acting as a natural mouthwash to neutralise harmful bacteria and restore balance in the mouth and gut, which is great news for your teeth and skin.
Whitens teeth
Our blend is formulated to have a pleasant taste and texture
Helps remove plaque, bacteria and freshens breath
Essential oils chosen for their anti viral and anti fungal properties
Skincare starts on the inside. Oil pulling with our formula of organic virgin coconut oil blended with essential and other healing oils, can help provide a healthier mouth and clearer skin by drawing out toxins and expelling bad bacteria from your mouth that would otherwise travel down into your body and contribute to your toxic load. This toxicity then shows up rather unattractively in your skin, teeth and breath, swipe left!
Our blend of natural, organic, essential oils are chosen for their anti viral and anti fungal properties which help to reduce toxins in your mouth and gut leaving you with whiter teeth, fresher breath and brighter skin, swipe right!
For added benefits, use our Copper Tongue Cleaner before swishing. 
Made with love in Australia.
Vegan, cruelty free, with no added water or fillers.
Don't just take our word for it, check the reviews below.
115ml / 3.89fl. oz
Ingredients
Sunflower Oil – A nutrient dense ingredient containing lecithin, carotenoids, tocopherols and vitamins A, D and E for overall well-being.
Sesame Oil – Used for it's high level of antioxidants and healthy fatty acids.
Castor Oil – Assists in loosening and removing plaque, as well as whitening the teeth.
Virgin Coconut Oil – For whitening and antibacterial properties.
Avocado Oil – Maintains health of the gums, while also high in antioxidants.
Helianthus Annuus (Sunflower) Seed Oil*, Cocos Nucifera (Coconut) Oil*, Sesamum Indicum (Sesame) Seed Oil*, Cannabis Sativa (Hemp) Seed Oil*, Ricinus Communis (Castor) Seed Oil*, Mentha Piperita (Peppermint) Oil, Tocopherol (and) Helianthus Annuus (Sunflower) Seed Oil (Vitamin E), Persea Gratissima (Avocado) Oil*, Commiphora Myrrha (Myrrh) Oil, Elettaria Cardamomum (Cardamom) Seed Oil, Limonene**, Linalool**
Certified Organic ingredients*
Naturally occurring in essential oils**
How to use me
On an empty stomach and before brushing, place 1 cap of oil in the mouth, swish for up to 20 minutes then spit out into the toilet bowl. Do not swallow.
Swishing Oil - hard to start but totally worth it
When I started with the swishing oil, 20 minutes was a long time, and be truthful it was kind of kinda gross.
But now it's part of my morning routine and it has definitely made my mouth feel fresher and I don't have such a dry mouth during the day.
It is amazing but it should come in a big container.
Love this product
Leaves your mouth feeling ridiculously clean and fresh.