Your Guide To Double Cleansing
Thankyou! Your Guide to Double Cleansing has been emailed to you!
Looking to learn immediately? Read the online version below.
Thankyou! Your Guide to Double Cleansing has been emailed to you!
Looking to learn immediately? Read the online version below.
Do you feel sometimes that the weight of the world is on your face when you get home at night?
Not to mention sweat, SPF, makeup, dead skin and bacteria – to name a few? If all of that is left on your skin overnight, you aren't giving your skin cells the best chance at regenerating which means waking up like you've had a big night out but sadly didn't enjoy yourself!
---
Although the ritual of double cleansing has become all the rage in beauty over the past few years, it is actually an ancient practice originating from 14th Century Asia. Double cleansing with oil-based mixtures was the only way to remove the kind of traditional white makeup worn by Japanese and Korean women at the time. I myself am a huge fan (although not for the same reason).
For me this includes doing a first cleanse with Balm of Ages™, followed by a second using Cleanse My Face, purifying oil cleanser. As both are oil based, the first works to remove grime and makeup, the second to actually clean your skin as well as nourish it.
Who knew you could get such clean skin without stripping it of all its natural oils and disrupting the natural balance? *Modestly raises hand*
Nothing makes your skin feel better, cleaner or more loved than taking the time to do your skincare routine right."
---
Use a Muslin Cloth soaked in warm water to take away the surface dirt and open your pores. Hold the cloth over your face and let the day go – a deep breath and exhale always helps. Feel better already?
---
Take a pea-sized amount of Balm of Ages™ and rub it into your hands to melt and then gently massage it over your face and neck and let it work its magic to attract all the makeup and dirt, and pull it away from the skin. Take a minute to do this – normally people cleanse for 20 seconds and this just isn't enough, plus this feels amazing. Rinse the Muslin Cloth in warm water again and hold it over your face again and then wipe away the day!
---
Use a pump or two of Cleanse My Face, our purifying oil cleanser, and massage it into the skin, really taking your time, again this is your opportunity to enjoy the remedial essential oils. Make sure to inhale the oils slowly as you apply. Our products are enhanced by the power of intention so make a conscious effort to allow your body, mind and spirit to be strengthened by positive thoughts. Then remove with the Muslin Cloth in warm water.
---
Once a week, you can add some complexion polish at this step to remove any dead skin. This deep cleanse will allow your serum to penetrate deeper and work its magic so you wake up all refreshed
---
Firstly, spending time on yourself is always worth it. For some, your skincare routine might be the only time you take each day to dedicate to self-care.
But it is also important for ensuring your skin is actually clean. Cleansing really is one of the most important steps in a skincare routine; so high quality natural ingredients are of the utmost importance.
Like dissolves like. Oil is the only thing that can dissolve oil naturally."
---
Even if you try to keep your skin clear by avoiding makeup, we are still exposed to daily pollution and bacteria in the air that we cannot control. So the first cleanse works as a remover, lifting and moving dirt away from your pores. The second cleanse is your actual skin cleanser. It cleans and balances your skin to prepare it for the proper absorption of the remedial benefits of what's to follow.
Used as a toner underneath other skincare products Hydrate My Face helps with product absorbency and efficacy, whilst being a great way to set your face when sprayed over makeup. Then apply serums for face and under eyes. Use our hydrating serums: Love Your Face Serum and ICU Eye Serum  and for intensely hydrated and smoother skin whilst you sleep use Nocturnalist Night Serum to finish off your routine.
Hydrate My Face
Hydrate and tone skin with every use.
Love Your Face Serum
Anti-ageing, intensive moisture boost.
ICU Eye Serum
Potent, Lightweight Eye Serum.
Nocturnalist Night Serum
Deeply moisturises and nourishes your skin while your sleep.
Get 50% off Cleanse My Face when you purchase a Balm Of Ages
Use the code DOUBLECLEANSE50 at checkout and get the Cleanse My Face for half price!
(You must have both products in your cart for the discount to apply).
*Offer only applicable when you have both Balm Of Ages 60gm and Cleasne My Face 100ml in your cart. Limited to one coupon code per customer and order. Offer available while stocks last.
Our Double Cleanse Essentials
---
With 19 remedial ingredients, Balm of Ages™ uses Camellia Tea oil, to deeply penetrate the skin and draw out dirt. Plus Patchouli oil, which calms inflamed skin and promotes cell renewal.
After that, Cleanse My Face uses remedies like Jojoba oil , which closely resembles the natural sebum of your skin, making it great for acneic skin types. Instead of stripping oil away (only causing it to produce more) it communicates with the skin to rebalance oil production. It also contains Sesame Seed oil for its antibacterial, antifungal and anti-inflammatory properties. It actually helps pull toxins from your pores.
So there you have it, your skin needs a little more cleansing than you may have realised (and you've added Double Cleansing to your hipster vocab).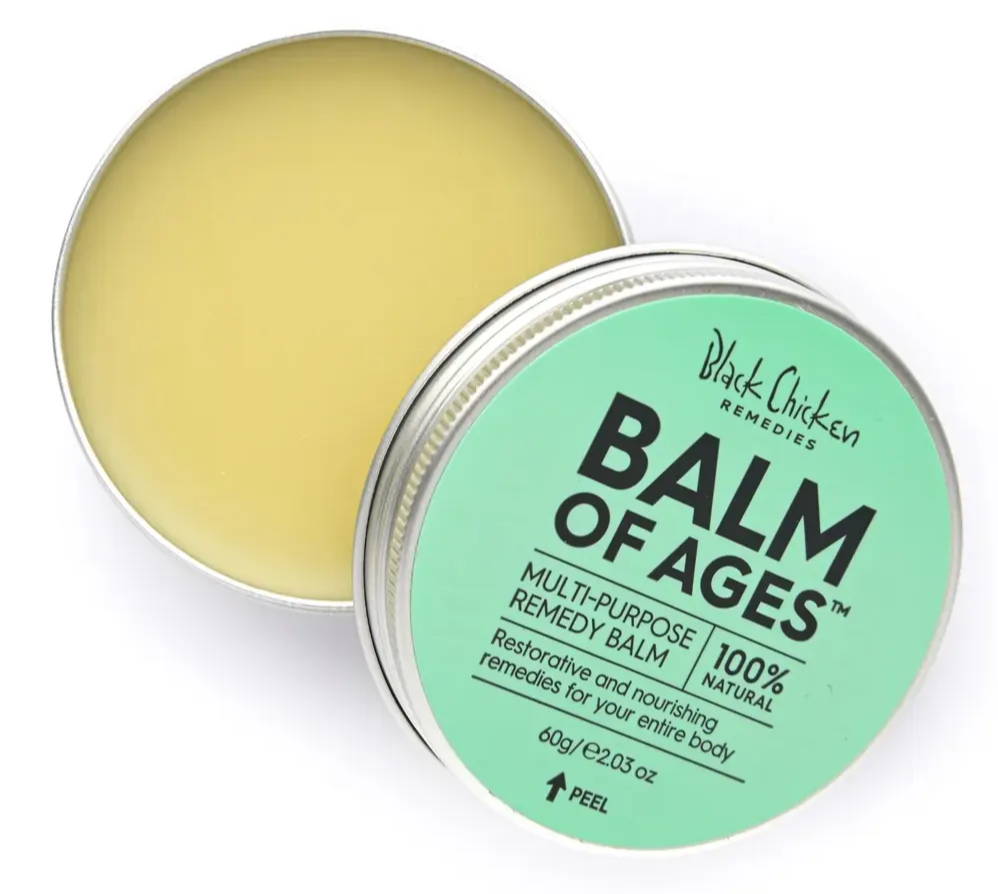 Who knew you could get such
clean skin

without stripping it of all its natural oils and disrupting the natural balance?