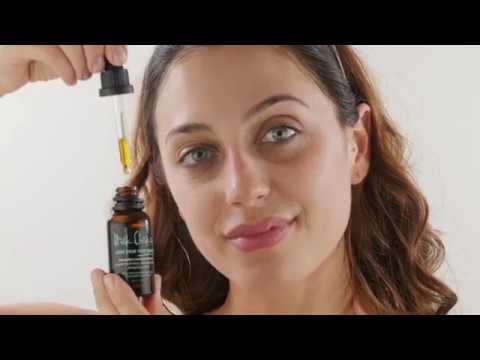 Love Your Face Serum - Natural Face Serum
An award winning 100% natural essential oil face serum, expertly formulated to intensely hydrate, rejuvenate and balance your skin tone and oil production.
Contains only natural and certified organic ingredients with no water or fillers

Highly concentrated to improve the firmness and elasticity of the skin

Penetrates deeper than a cream for longer-lasting hydration
This specifically formulated product will reduce signs of redness, large pores, aging and sun damage
Does not contain Alcohol, Parabens, Propylene Glycol, Triclosans, Synthetic Fragrances or other harmful chemicals
Vegan, cruelty-free and made with love in Australia
Made with powerful antioxidants blended to craft a multi-targeted serum to deliver on every level. From increasing collagen production to improving skin tone, this bottle of goodness can help benefit all skin types including sensitive and problematic skin.
Lightweight in nature this hydrating face serum is perfect for daily use; it's instantly absorbed to rejuvenate the skin's surface for an all day healthy glow. A little goes a long way so you only need to use a few drops.
This also contains anti-ageing properties, which work to encourage the production of new skin cells due to our unique combination of essential oils, and botanical extracts. Skin will appear smooth and plump and will visibly reduce the signs of fine lines and wrinkles.
Don't just take our word for it read our reviews below on how our Love Your Face Serum has helped other users.
Love yourself, love your face! 
Key ingredients
Neroli essential oil – helps improve elasticity in the skin. It acts as a rejuvenator for mature and sensitive skins because it is capable of stimulating the growth of new cells.
Organic apricot kernel oil – super absorption qualities work magically on dehydrated, distressed and mature skin, fighting fine lines.
Organic jojoba oil – mimics human sebum more closely than any other compound in nature so works well for problem, acne-prone and ageing skin, to balance moisture.
30ml / 1.01 fl oz
Ingredients
Transform your complexion with this unique formula of 11 therapeutic oils that feed vital nutrients to hydrate, visibly smooth, and intensively moisture boost the skin on your face.
Vitamin E Oil – assists in delaying the skin's ageing process. It contains powerful antioxidants that are necessary in fighting free radicals that cause damage on the cellular level.
Organic Apricot Kernel Oil – is very easily absorbed into the skin, making it particularly helpful for dehydrated, distressed and mature skin. It is particularly rich in both oleic acid and linoleic fatty acids, helping it to fight fine lines and revitalizing the skin.
Organic Jojoba Oil – is perfect if you suffer from acne-riddled, prematurely ageing or otherwise problematic skin as it mimics human sebum more closely than any other compound in nature. Therefore it assists in bringing balanced moisture to all skin types.
Organic Evening Primrose Oil – is exceptionally rich in essential fatty acids which help to rejuvenate your skin, dramatically decrease fine lines and wrinkles, help smooth rough skin surface and encourage the production of new skin cells. It aids skin repair, helps to lighten dark circles under the eyes, gives skin better elasticity and noticeably reduce redness by evening skin tone.
Neroli essential oil – helps improve elasticity in the skin. It acts as a rejuvenator for mature and sensitive skins because it is capable of stimulating the growth of new cells.
Ylang Ylang essential oil – has a soothing effect on the skin and its balancing action restores the balance of sebum secretion.
Sandalwood Essential oil – is excellent for dehydrated skin plus relieves irritation and inflammation of the skin.
Prunus Armeniaca* (Apricot Kernel oil), Simmondsia Chinensis* (Jojoba oil), Oenothera Biennis* (Evening Primrose oil), Argania Spinosa* (Argan oil), Citrus Aurantium Amara (Neroli essential oil), Rosa Cglanteria (Rosehip oil), Santalum Spicatum (Sandalwood essential oil), Cymbopogon Martinii* (Palma Rosa essential oil), Rosa Centifolia (Rose Maroc essential oil), Cananga Odorata (Ylang Ylang essential oil), Mixed Tocopherols (Vitamin E).
*Certified Organic Ingredients
How to use me
Just put 3-4 drops on your fingertips and gently pat onto your freshly cleansed face. Take a moment to close your eyes and inhale the gorgeous scent and yes, love your face.
Delivery
 Our remedies are global, we ship anywhere and everywhere!
Australia Domestic
Free Delivery (regular post) with purchases over $150
2-10 business days
Regular post cost: $9.96
2-10 business days
Express post cost: $15
1-2 business days
International
Regular International cost: $21.50
10+ business days
Express International cost: $35
3-7 business days
When will my order be despatched?
Remedies ordered before 9am Monday-Friday will be processed and shipped the same day.
 Remedies ordered after 9am will be processed and shipped out within one business day, unless otherwise advised.
 Please note if you order on a Friday after 9am your order won't be processed until Monday.
 A tracking number will be sent to you once the order has been despatched so you can track its progress.
 Still have questions? Learn More 
Such a lovely moisturising serum
I have tried both the serums and they are very soothing to my sensitive, aging and dry skin. Highly recommend.
"If I could turn back time.....
...there are lots of things I would do to nourish my skin. Now, at the age of 62, I am feeling my skin needs the stimulation of a good product. I have found it in this "Love Your Face Serum." I originally bought some in a local health food shop. I loved it. That led me to keep a watch on the Black Chicken website, and the minute this serum came up in a sale, I grabbed two. I shall continue to use it - it is positively fabulous. My skin has responded so well to it - and especially as I have sensitive (and....um.....ageing) skin - the neroli in this serum is perfect. I use it in the morning and at night. The bottle lasts forever, even using it twice a day. Well done, Black Chicken - you have a new ongoing customer :)
Love this serum
This is my go to morning serum. I always apply after cleansing and under primer and sunscreen.
The smell is beautiful and feels so good on the skin, which absorbs it beautifully without it feeling too heavy.
I actually wear less makeup now And have more confidence in my skin and I am turning 40 this year.
As with the night serum, I feel this has also faded some old acne scars.
I have recommend this product to my friends !
Love, love !