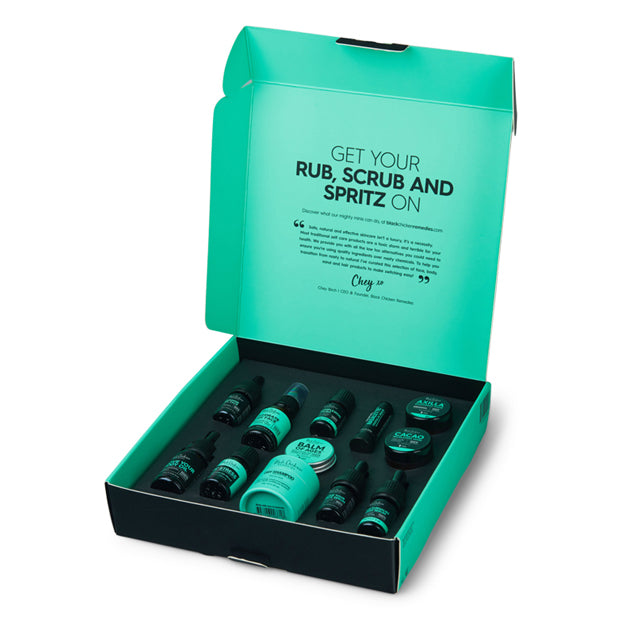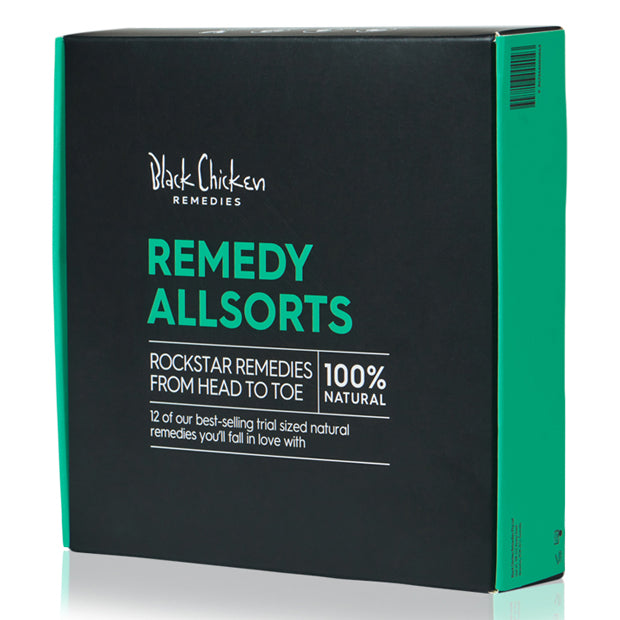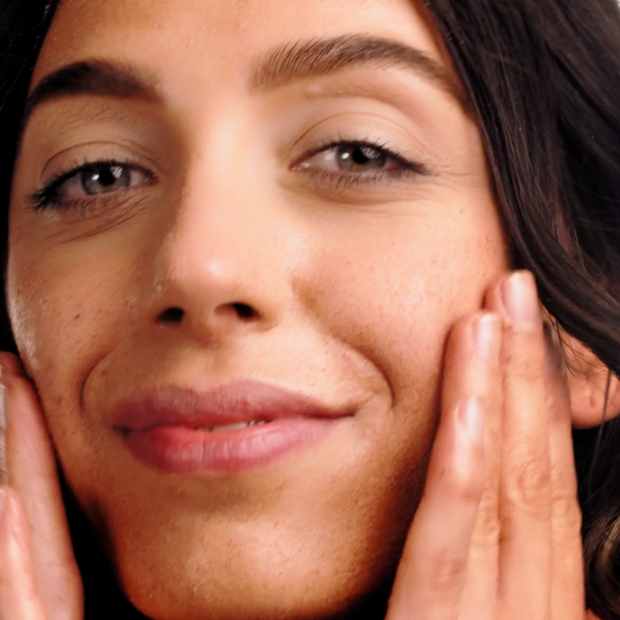 Remedy Allsorts
From top to toe we've got you covered with these rock star remedies! This box contains everything you need to make the switch from conventional to natural products. All natural and organic skincare for face and body as well as remedies for hair and mind – there's something for everyone.
(Valued at $171.00)
12 trial size key products from our head to toe range

100% natural so you can transition your skin and health care away from toxins
Natural formulas that work with your skin so you can improve skin issues irritated by conventional products
Australian made
Read more
Organic remedies you'll fall in love with…

Remedy Allsorts contains everything you need to transition from toxic chemicals to natural products. Organic, blended essential oils are the foundation of our remedies and we create potent formulas to soothe, hydrate, boost and balance your face, body, hair and mind.

For better or worse, every product you use on your skin, hair and in your home is absorbed by your beautiful body; time to make that chemical free upgrade boo!

Pregnancy safe: Safe to use during pregnancy and breastfeeding. All quantities of essential oils are well below the required amounts deemed safe to use whilst pregnant and breastfeeding. We do recommend a patch test as you may be more sensitive when pregnant.
1 x Axilla™ Deodorant Paste Original 15g / 0.53oz – Our deodorant paste is a chemical free deodorant formulated to neutralise underarm odour and maintain that fresh feeling without inhibiting your sweat glands ability to dispel toxins..

1 x Balm of Ages™ 15g / 0.53oz – If Mother Nature had a list of her favourite natural ingredients, you'd find them in this. Formulated to deliver 19 deeply penetrative and restorative ingredients to the skin and hair that save and seal.

1 x Cacao Revelation Mask 3g / 0.10oz – Draws oil and impurities from the pores, reduces inflammation and promotes skin regeneration to reduce the effects of acne, problem skin and ageing

1 x Cleanse My Face 5ml / 0.17fl. oz – Our deeply calming oil cleanser uses 14 remedial oils to target impurities held deep within your skin. It effortlessly removes makeup and dirt without disturbing your skins natural oil balance.

1 x Complexion Polish 5g / 0.17oz – Rice powder, Argan Shell Powder and Myrrh Powder are just some of the ancient ingredients in our Complexion Polish that help to even skin tone, increase circulation and cell activity plus stimulate collagen production.

1 x Hydrate My Face 15ml / 0.50fl. oz – This botanical hydration and toning mist uses pure Grapefruit and Chamomile Floral Water to calm and hydrate the skin, Witch Hazel to tone and re-balance, plus the pure organic essential oils of Lavender and Mandarin to leave the skin supple and energised.

1 x Love Your Body Oil 15ml / 0.50fl. oz – This nourishing, blend of natural oils and pure essential oils contains ingredients that will not only nourish and soothe your skin in a visible way but aid deeper cell regeneration and repair.

1 x Love Your Face Serum 5ml / 0.17fl. oz – An indulgent anti-ageing, deeply penetrative, skin boosting, super hydrating, plumping face serum. This incredibly luxurious serum continues to nourish and protect your delicate facial skin all day whilst still allowing it to breathe.

1 x Natural Dry Shampoo 10g / 0.35oz – Our dry shampoo powder contains all natural, organic ingredients to give you fresh smelling, volumised, healthy hair in an instant.

1 x Nocturnalist Night Serum 5ml / 0.17fl. oz – The best time to get intense hydration, repair and fine line reduction for your skin is at night. Our luxurious blend of 12 natural, organic ingredients will deliver vital nutrients to deeply moisturise and nourish your skin whilst your sleep.

1 x Nasalette™ Essential Oil Inhaler 0.50ml / 0.01fl. oz* – Our pocket sized essential oil inhaler for on the go relief and rejuvenation.

1 x 100% Natural, Organic Essential Oil Blend 0.75ml / 0.01fl. oz* – A versatile blend for potent healing, that can be used within our Skypipe Essential Oil Diffuser, to top up your Nasalette Essential Oil Inhaler, within the bath for a relaxing effect or onto a hanky for anytime smelling.

*Please note, Nasalette™ Essential Oil Inhaler and Essential Oil Blend may differ to what is pictured.

For full ingredient information, please refer to the relevant product page.
FREE International Shipping over $150.
Christmas Delivery Dates: See our Shipping page
Save up to 20% storewide*
Spend $200
save 10% + get free shipping* | Code: BCR10 

Spend $300 save 15% + get free shipping | Code: BCR15 

Spend $400 save 20% + get free shipping | Code: BCR20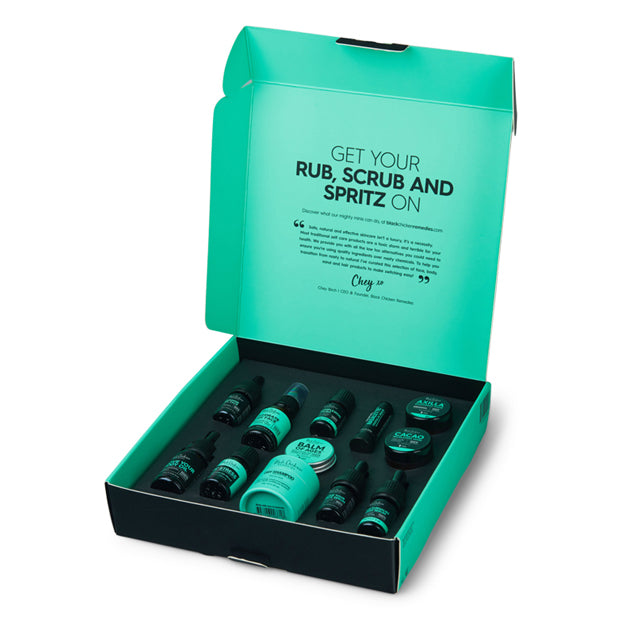 This product is rated 5.0 of 5.0 stars.
It has received 15 reviews.
This product is rated 5.0 of 5.0 stars.
It has received 15 reviews.
Amazing gift!
My dear friends just turned 60 and I brought two of these with me to London for them. They LOVED the variety and handy size of the contents!
Love love love!!!
I just love every single one of these products. I get excited to use them, they feel and smell so lush and my skin is so much more radiant and nourished when I use them. Thank you Black Chicken 💗
christmas gift
this is an amazing gift for someone special
Loved trying this great range
This pack was great to get an idea of all the products on offer. Great value and range.
Remedy Allsorts is gold!
What a brilliant way to be able to gift, test or simply enjoy! Loved it all.........
This product is rated 5.0 of 5.0 stars.
It has received 15 reviews.
This product is rated 5.0 of 5.0 stars.
It has received 15 reviews.