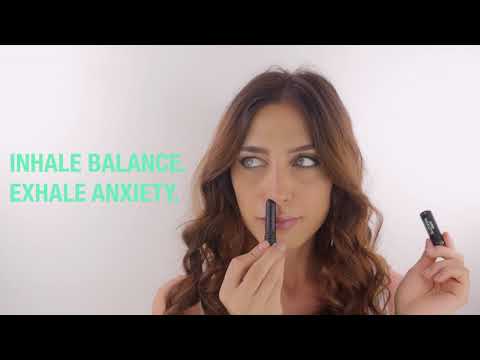 Slumber Nasalette™ Natural Essential Oil Inhaler
A Nasalette™ is a pocket sized essential oil inhaler for on the go relief and rejuvenation. The Slumber Essential Oil Nasalette™ contains 100% essential oils to help reduce sleeplessness, insomnia, nervous tension, mild anxiety and stress.
100% natural, organic essential oils blended to relax and aid with sleep
Bergamot oil helps to release hormones like dopamine and serotonin inducing feelings of relaxation and sedation
Calming and grounding effect on the nervous system
100% natural, non toxic blend
Inhale relaxation, Exhale frustration
Our best selling blend, Slumber evokes a sensation of calm and relaxation with Lavender, Cedarwood and Cinnamon essential oils that are renowned for easing anxiety, promoting relaxation and aiding sleep. Using a Nasalette™ Essential Oil Inhaler as a natural way to ease stress and insomnia is a great way to support your nervous system without adding to your toxic load.
Take your Nasalette™ Essential Oil Inhaler anywhere and refill when you need to with our Slumber Essential Oil Blend.
Made with love in Australia.
Vegan, cruelty free, with no added water or fillers.
Don't just take our word for it, check the reviews below.
0.50ml / 0.01fl. oz
Ingredients
Cedarwood - Used by the ancient Egyptians, the warm woody aroma works to decrease irritability and calm nerves to prepare you for relaxation.
Bergamot - The fresh sweet citrus properties in this oil help to release hormones like dopamine and serotonin inducing feelings of relaxation and sedation.
Cinnamon - This remarkably potent spice has been used in traditional medicines for thousands of years. Its distinct musky warmth aids in stimulating blood circulation and works to clear the system of toxins.
Vetiver - With its immune-supporting properties, this smoky caramel aroma has a calm and grounding effect creating the ideal environment for deep sleep.
Marjoram - Is widely used as an analgesic for reducing pain and inflammation. Its aromatic oil properties calm the nervous system and have a positive effect on the mind.
Lavandula Angustifolia (Lavender) Oil, Citrus Bergamia (Bergamot) Peel Oil Expressed, Cedrus Atlantica (Atlas Cedar) Bark Oil, Cinnamomum Zeylanicum (Cinnamon) Bark Oil, Vetiveria Zizanoides (Vetiver) Root Oil, Origanum Majorana (Marjoram) Leaf Oil, Anthemis Nobilis (Chamomile) Flower Oil, Coumarin**, Limonene**, Linalool**, Citral**, Citronellol**, Benzyl Benzoate**, Cinnamal**, Cinnamyl Alcohol**, Eugenol**, Isoeugenol**, Geraniol**
Naturally occurring in essential oils**
How to use me
Place the personal inhaler tip just below your nostril. Do not insert it into the nostril.
Close off the other nostril with one finger.
Slowly inhale to a count of 5 with full awareness of the remedial scents, then slowly exhale.
Repeat with the other nostril. Repeat the procedure 2-3 times.
You can use your personal inhaler every 2-3 hours.
How to Refill: To refill a Nasalette™ Essential Oil Inhaler you can either remove the bottom panel (You need to get your finger nail between the ridged area and the very top part and it will come off - please see picture attached) or you can simply add a few drops of the oil via the top hole of the inner Nasalette™ Essential Oil Inhaler. 

If suffering from congestion or upper respiratory ailments, you can help get these under control with our Respire Essential Oil Blend developed to quickly reduce swelling and inflammation in the nasal passages. When your airways are clear, you'll be able to enjoy the remedial benefits of our other blends too.








Amazing - best sleep in months

This is now part of my nightly routine and has led to the best sleeps I have had in a long time!

Naselette Slumber

It's pretty good. Good deep sleep for 4 to 5 hrs.
I'm hoping contents last a good few months. Have recommended to others!

Great tool for my daughter

My daughter uses this before bed and says it makes her calmer.

-->