Your skin does a pretty good job of protecting your internal systems from over exposure of harmful environmental chemicals, but you could be deliberately adding unwanted chemicals to your body from toxic body lotions and creams.
The industry isn't well regulated either, and the products hitting our shelves every year are often replete with synthetic chemicals—some of which are known to cause endocrine problems, and even cancer. You only have to look at the ingredients label to see whether your lotion includes parabens, artificial colours or fragrances, or sodium lauryl sulfate, and you'll find you've unknowingly been exposing yourself to hazardous chemicals.
Cosmetics and personal care products are often overlooked as sources of toxins.
If that all sounds a bit catastrophic, don't worry: there are much better alternatives available.
You don't need to compromise on the quality of your body products to be done with toxic chemicals.
At Black Chicken Remedies, we've carved a place in the market for a truly luxurious body oil that'll both detoxify and nourish your skin, delivering a gorgeous sensory experience you can enjoy every day while you reap the measurable health benefits of natural ingredients—and there's a bunch of reasons why it's better than anything else you're using.
It's all natural
Many people don't understand that most things that are applied to the skin are absorbed into the blood stream and into the body's systems. Like topical medications (including nicotine patches and gtn patches for angina), the chemicals in body products like creams and lotions end up travelling through the body.
The worst part is, nobody knows what problems they cause over the long term—though there is a growing body of evidence supporting that the synthetic ingredients like parabens, phthalates, propylene glycol, and formaldehyde in many popular body products cause cancer, allergies, dermatitis, respiratory problems, kidney damage, and reproductive problems.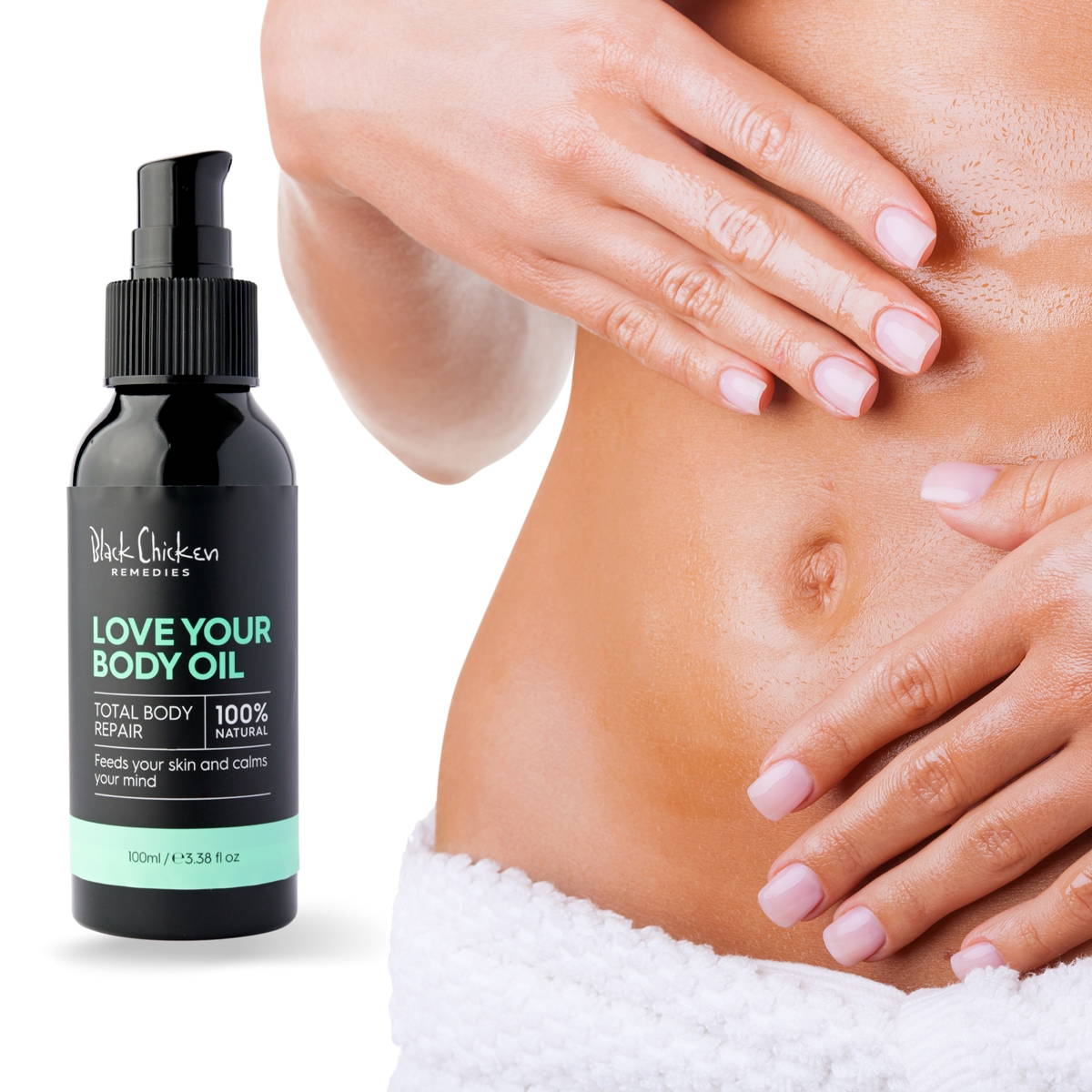 That's why it's so important to choose natural products, and only ever put on your skin the ingredients you'd be happy to put inside your body. At Black Chicken Remedies, we're proud to offer Love Your Body Oil: we carefully chose its exclusive list of natural ingredients for their health benefits, and lovingly combined them to give our customers a unique and luxurious sensory experience.
With ingredients like hazelnut oil, carrot essential oil, geranium bourbon oil, and vitamin E oil, Love Your Body Oil has amazing potential to protect and repair body systems at cellular level, stimulating the circulatory system, and toning and elasticising the skin by maintaining cell integrity. But with ingredients like nutmeg essential oil, it's in a class of its own, with naturally soothing and analgesic properties that are also known to relieve rheumatic pain and invigorate the mind.
It's truly amazing what nature can do: and you'll see just how powerful it is in this formulation.
It's remedial
Your body products shouldn't just smell and feel nice: they should actually do something to help repair damage. We sustain some degree of damage every day, just by living in the environment—but with the right ingredients, it's easy to soothe and nourish our bodies, and prepare ourselves for each new day by fortifying our skin.
The skin's natural absorption means that toxic chemicals can enter our bloodstreams through topical application of everyday body products. But we can harness this capacity for good—by only applying natural products, those with ingredients that have remedial and therapeutic benefits and support our health and wellbeing. Natural ingredients are rich in vitamins, and when they're used correctly, they soothe, moisturise, and repair damaged skin.
This capacity for regeneration is possible with ingredients like patchouli essential oil (which stimulates the regrowth of skin cells), Sandalwood essential oil (which relieves itching, inflamed, and dehydrated skin), Avocado oil (which is vitamin-rich, and soothes and moisturises dry, mature, and damaged skin) and Rosehip oil (which uses the potency of essential fatty acids to regenerate tissue).
Ylang ylang essential oil is also an important inclusion for its potential to balance sebum production, making it suitable for treating both dry and oily skin. These oils actively repair damage from burns, scars, and stretch marks, and soothe visible inflammation and dryness—which not only makes your skin feel better, but improves its cosmetic appearance, reducing wrinkles repairing visible damage.
But repair isn't just skin deep. We chose Love Your Body Oil's ingredients because they're rich in vitamins and anti-oxidants that support multiple body systems: they're known to soothe the nervous system, reduce tension, and measurably relieve the symptoms of anxiousness and stress. When you choose natural products, your whole body benefits—and you can feel, as well as see, the improvements to your health.
It's a sensory experience
There are new body products on the market every day. very few of them use or offer the health benefits of exclusively natural ingredients, but even fewer can offer a better sensual experience than what nature has to offer.
Many people think their body lotions and creams smell nice: but most of these people haven't had the opportunity to experience what natural ingredients actually smell like.
There's a big difference between the overpowering and chemically smells of synthetic scents, and the refreshing smells of the natural ingredients that they just can't replicate (you might be surprised at how gentle and soothing the smell of natural lavender is).
There's also lot of the danger in artificial fragrances: the chemicals used to make them have been associated with many different allergies, chronic conditions like dermatitis, and even severe health issues like respiratory distress. They're all pointless risks to take, when nature has more invigorating and healthful fragrances just waiting to be used!
Love Your Body Oil stimulates the senses, because we made it with what nature gave us. We didn't set out to artificially create a particular scent—but if you want proof of the 'heavenly' smell of it, you only have to look at our customer reviews. They also consistently testify to the texture, telling us how much they appreciate the deep-penetrating benefits that it delivers without leaving the oily residue common to many popular products. It's so versatile you can even add it to your bath, and enjoy the soothing effects as you relax, knowing you're soaking real nutrients deep into your skin.
There's a lot to love about natural products, and it's a way of life for us at Black Chicken Remedies. We made Love Your Body Oil because we wanted a product to detoxify and nourish our skin, and to get the real health benefits of toxin-free ingredients. We're proud of what we've made: it's smooth and light, with a silken texture and a scent that's loved by both women and men. Oh, and did we mention, it also goes a long way? What's not to love?
---