There's no doubt a great hair oil can give you the look. You know? That slow-mo swing of super silky hair. The soft touch-me shine as fingers casually sweep it back. Hair that breathes youth, health and vitality.
But before you reach for a conditioning dose of synthetic chemicals and artificial fragrances, please stop right there. Don't you want to know exactly what you're massaging into your scalp?
Many hair treatments contain synthetic ingredients, such as silicon emulsifiers, artificial fragrances and colours. These chemicals can give your hair a temporary fix of volume and sheen but when all the build up needs to be stripped away, there goes the look!
Maybe you already know how chemicals, good and bad, cross the skin barrier and enter the body. Maybe you've already decided you don't want to massage any kind of toxins into your scalp. And you're telling yourself right now, just as we did, that "a little bit toxic" is way too much!
That's why we've created a hair oil that's good for you and good for the environment. It's therapeutic and uses the power of botanical extracts to bring harmony to your hair, releasing its natural beauty from the inside instead of just coating the outside.
HairOm™
is a light luscious hair treatment with an all-natural, toxin-free formula, beautifully effective at deep conditioning.
"It acts as a healing restorative and lubricant, encouraging healthy hair growth, and it also seals the cuticle."
Hair oils have been used by men and women for thousands of years to perfume and nourish the scalp and add strength and lustre to hair. Then along came more recent technology offering synthetic products without thought or care for the earth. We decided to do something about that.
Sometimes it seems as though everywhere you turn there's a warning: toxic this, toxic that. Sad, but true. Why take a risk when there's a much better alternative? With HairOm™, we've done the hard work for you, developing and testing, testing, testing – always with the best natural ingredients – so that you can enjoy great results.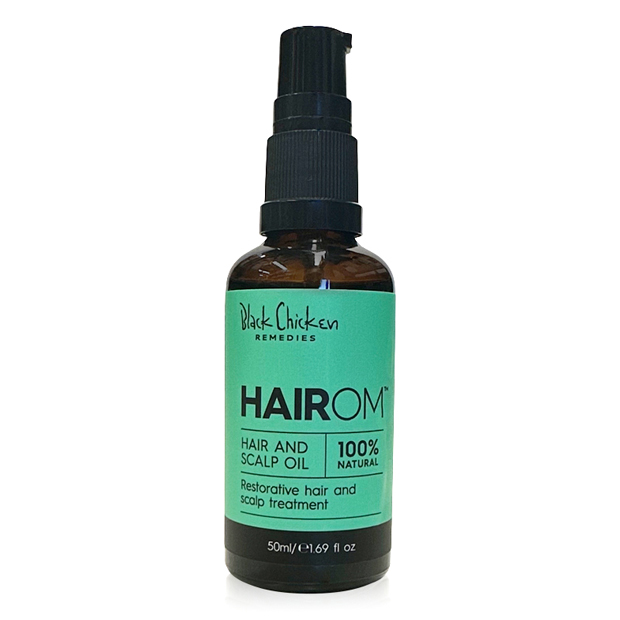 It's your scalp and your precious hair, and we know you want to feel good about what you're putting on it. at black chicken remedies, we prefer to bring out the best in you naturally.
HairOm™ penetrates and protects your scalp and hair follicles.
It acts as a healing restorative and lubricant, encouraging healthy hair growth, and it also seals the cuticle.
If you've got problems with dryness, split ends, frizz, dandruff, itchy scalp, coloured or thinning hair, or just want to step up the feel-good factor – it's time for a great hair treatment.
HairOm™ all natural blend of ten therapeutic oils enriches your scalp, encouraging healthy skin, luxuriant hair and new hair growth. Its star performers include Organic jojoba, hemp, sesame and argan oils, infused with essential oils such as deeply nourishing geranium bourbon, rosemary, and cedarwood. Each ingredient has been specially selected for its particular remedial properties.
Rosemary essential oil: This oil has been used for centuries as a remedy for thinning and brittle hair. Scientifically proven to prevent premature greying, it is also one of the top essential oils for stimulating hair growth and thickness, and helps repair dry and dandruff-prone skin.
Cedarwood: We use cedarwood because it can revitalise hair follicles by increasing circulation to the scalp. It helps to boost hair growth and slow hair loss. It's also a useful treatment for thinning hair and some types of alopecia
Lavender oil: We use lavender not just for its calming scent but because it can promote hair growth, and its antimicrobial properties combat bacterial and fungal skin disorders.
Argan oil: Argan oil's Omega 3, 9 fatty acids and antioxidants moisturise and protect your hair from heat and harsh conditions. It's also wonderful for treating brittle and frizzy hair, leaving it soft and manageable.
Geranium Bourbon: As the floral scent calms and relaxes your mind, Geranium Bourbon is hard at work nourishing and toning your scalp. This ingredient has been used for many years to develop and maintain healthy hair. It helps to regulate the secretion of sebum, improving balance for dry and oily scalps, leaving smooth, silky hair.
Jojoba oil: Jojoba helps revitalise your hair, repairing damage and creating conditions vital for healthy hair growth.
Clary sage: This wonderful oil, often used to help relieve stress and balance hormones, is a natural remedy for stress-induced hair loss, working well with jojoba oil. Together, the two remedies help to regulate oil production, preventing and repairing itchy, scaly patches that can lead to dandruff.
Hemp oil: We use hemp oil for its proteins, which help in the formation of keratin, the main structural constituent of hair. Hemp oil also boosts blood circulation to the scalp.
Sesame oil: Sesame oil helps to prevent premature greying and colour loss. It acts as a natural sun-blocker to protect the hair fibres and as a naturally deep-penetrating agent, it helps with healing from the inside out.
Vitamin E: A crucial antioxidant, vitamin E helps to reduce inflammation on the scalp. It also works to repair and prevent damage to the follicles.
While each of these ten ingredients delivers specific benefits, the powerful and carefully balanced synergy of our essential oils and botanicals leaves your hair feeling gorgeous and smelling great.
Is HairOm™ right for my hair type?

HairOm™ is suitable for anyone with dry, damaged, dull, split, coloured, thin, thick, frizzy, tangled and even oily hair. It's formulated to help just about every hair type. You want to be the best you can be? We can help. It's so easy to get head-turning shine!
Will it make my hair greasy?

You might think oil would make your scalp greasy but actually, the opposite is true. Hair om™ suits just about every hair type, even oily hair.
Because HairOm™ works to nourish your scalp and moisturise your hair, it encourages a better balance of natural oil production, helping to prevent your scalp from over-producing oil.
Will HairOm™ help with eyebrow growth?

HairOm™ therapeutic ingredients will stimulate hair growth and help heal this area usually laden with synthetic chemicals through makeup and dyes. However, it won't help with regrowth where your eyebrows have been lasered or plucked out. apply a very small amount to your finger and massage the area until the oil is absorbed, avoiding the eye.
What's the best way to use HairOm™?

HairOm™ is a pre-shampoo deep conditioning treatment. A light oil with a mighty boost. Massage a small amount (1-2 teaspoons) into your scalp while your hair is dry and then work it through to the ends. Please remember, a little of this intensive oil goes a very long way.
Wrap your hair in a towel and wait at least an hour. For optimal absorption, you can even leave it in overnight. (It won't stain your pillow.) Then shampoo to remove any oil the hair doesn't absorb.
As with all our products, applying HairOm™ is a deliciously aromatic sensory experience that has you feeling almost as good as when you see the results!
To increase the benefits and maintain your healthy, shining touch-me hair, treat yourself to HairOm™ at least once a week.
Bring harmony to your hair with our award winning HairOm™ Restorative Hair and Scalp Treatment
How to use HairOM™ - Restorative Hair and Scalp Treatment