At the risk of sounding dramatic, if you knew what was in your skin care products you'd jump at the chance to switch from nasty to natural.
Most of the ingredients in your lotions, creams, soaps, perfumes and hair products can be absorbed into our skin and enter the bloodstream and body systems. So, what if those ingredients are toxic? Sounds scary, right? While we know a lot more now about the toxic effects of some substances, we don't know for sure the long-term effects of many others ­­­- many of which are the main ingredients in the products you're using right now.
---
We're passionate about promoting healthy skin care rituals and making remedial products that love your body as much as you love using them. Natural is always best, so if you're thinking twice about all the harmful bottles in your bathroom, we've got a skin care pack to kick them to the curb. We know we're not the only natural skin care company out there, but unlike others, we are focused on creating remedial products using the best processes.
We've made it really, really easy – because we want to show people just how refreshing it is to use toxin-free products. If you think you're ready to make a truly positive change in your life and start supporting your health and wellbeing, we've got your remedy ready for you in one nutrient-loaded pack. Introducing, Remedy-Set-Go. Our complete facial skin care pack that replaces your current cleansers, toners, exfoliants and moisturisers.
"If you're one of those people worried that natural skin care products won't work as well for you as toxic ones, don't worry, in most cases they don't just work as well – they can work even better! "
We've got your switch to all-natural skincare covered. Our Remedy-Set-Go pack has been designed to make it easier to try our natural skin care products without committing to our bigger volume products. We've bundled together mini versions of our Cleanse My Face, Hydrate My Face, Complexion Polish and Love My Face Serum, which make trying remedial goodness risk free for both your wallet and skin. Our Remedy-Set-Go is a starter pack to a complete facial skin care system. You'll benefit from completely eliminating gross chemicals from your regime and see the difference toxic-free products make to your skin.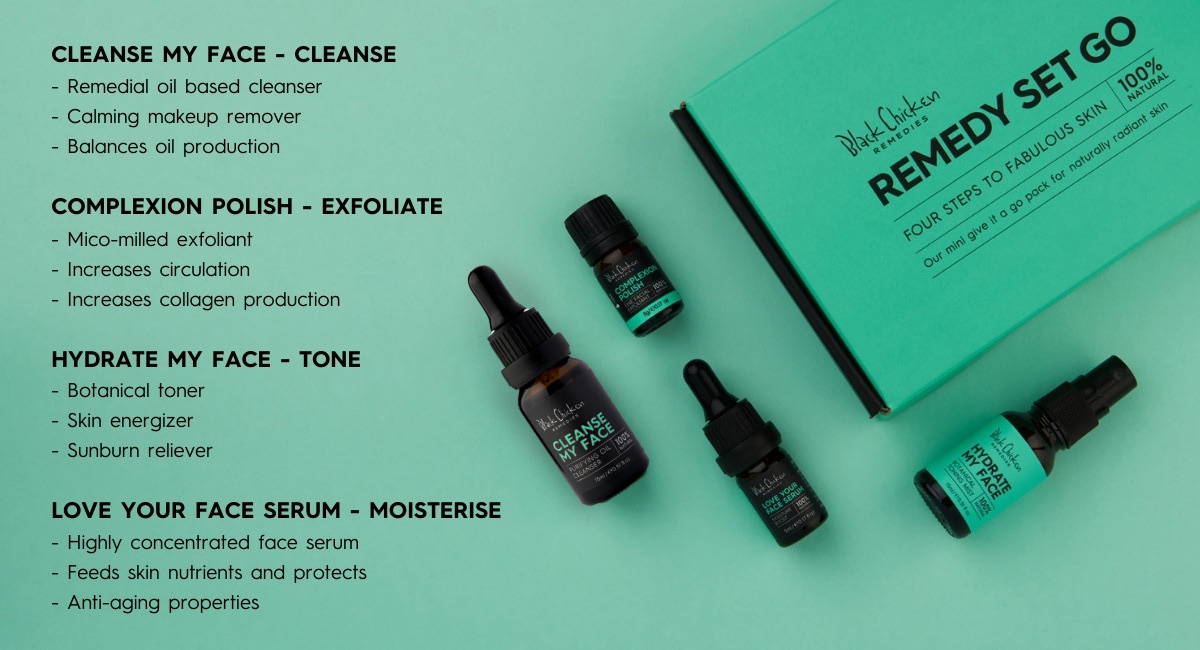 What's in your all-natural, skin care system?
So what do you get when you make the switch to Black Chicken Remedies' all-natural skin care regime? A whole lot of lovely, that's what. A complete system of body-loving luxury that shows you how gorgeous all-natural products smell and feel on your skin, and what they can do for your health and wellbeing—without compromising on any of the important elements of your complete skin care regime.
Step 1: CLEANSE MY FACE – Cleanse
We use 14 remedial oils that target impurities and literally dissolve makeup away without stripping your skin of its natural oils. This is key, because when your skin's natural barrier is compromised it goes into shock and overproduces sebum to replenish itself. Using Cleanse My Face keeps your skin feeling dewy, clean and cared for.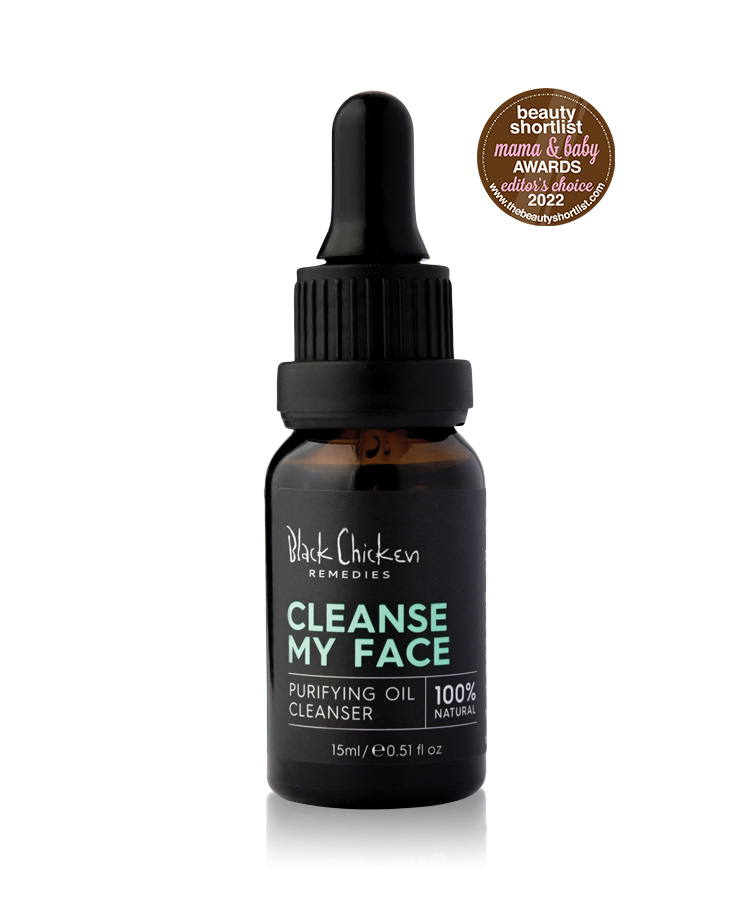 Step 2: COMPLEXION POLISH – Exfoliate
Some of the ingredients in modern-day exfoliants are truly scary, for you and the environment. We're all about micro-milled natural ingredients not micro beads. Rice, Argan and Myrrh powders are just some of the ancient remedies in our award winning Complexion Polish that help to even skin tone, increase circulation, cell activity and stimulate collagen production. We recommend using 2-3 times a week and adding a little Cleanse My Face to supercharge the mix.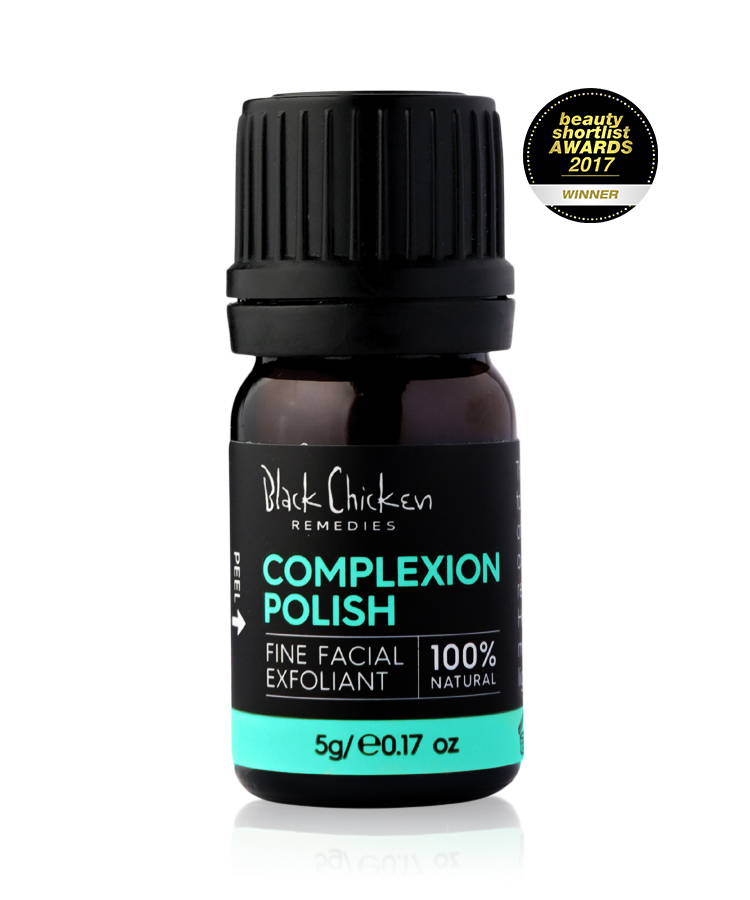 Step 4: LOVE YOUR FACE SERUM – moisturise
This stuff puts back into your skin what life takes out. Highly concentrated to deeply nourish, protect and restore skin cells, our award winning Love Your Face Serum absorbs instantly and still allows your skin to breathe. It's incredible and some even say life changing. You can use it every day to replace your day and night facial moisturiser.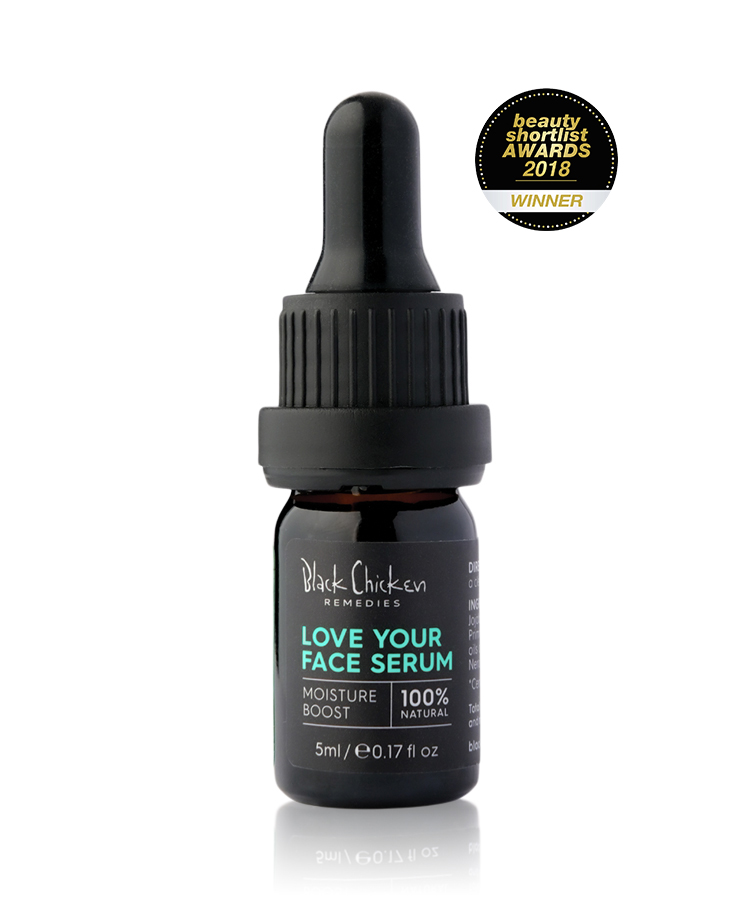 *Offer only applicable to Remedy-Set-Go - Natural Skincare Trial Pack and while stocks last. Shipping not included.
Pack usually costs $39.95 - you only pay $19.98!
No coupon code needed

How to use our 4 step skin care system
A bit more about the scary (and surprising) truth of skin care:
Your current skin care system could be making you sick and you don't even know it. even if you're not feeling it now, you could be feeling it a few years; and what's really awful about that is it's still anybody's guess how that damage will manifest.
Maybe you already avoid some products because of what's in them: you might already know about the truly dangerous ones—phthalates, parabens, petrochemicals, formaldehyde, and triclosan. But what's worrying is that many chemicals that are banned in other countries are not banned in Australia. Furthermore, their chemical names can be called a variety of titles, making identifying them even trickier.
Literally hundreds of commonly used ingredients (including phthalates) can be listed on the ingredients label of your skin care products simply as 'fragrance'. That means that even when you're looking for them, you're still not making an informed choice about what you're absorbing into your body. We find this totally scandalous. But we're not living in the age of censorship anymore: we all have a choice.
"We're a reputable brand that use completely toxin-free ingredients: what you see on the label is what you get."
Seriously, here's why you need to make the switch… like, right now:
Maybe most of the skin care products on the market are relatively safe over time, if they're only used in small doses. But many of them have even been branded by regulators as 'just a little bit' toxic. We find that pretty ridiculous, which is why we built our brand in the first place. We believe in our products. We made them for a reason, because we weren't happy anymore to keep absorbing synthetic chemicals into our bodies and because we believed there had to be a natural alternative to what major brands put into their skin care products. And there is, they've always been there, we're just one of the only brands smart enough to use them.
We chose ingredients for our products that don't just feel great, but are proven to support our health. Our Remedy-Set-Go is made up of products which are all enriched with remedial essential oils, so all of them will actually benefit your mind and body connection.
We also made the products in the Remedy-Set-Go with the environment in mind. If you're sceptical and you feel a bit 'green-washed' in the current social focus on climate change (yes, some brands ARE capitalising on your fears about the environment), don't be. It's a simple science, our products use high-quality essential oils that aren't diluted or mixed with dangerous carrier oils, so there's nothing environmentally damaging in them. The other benefit of this is that because they're not diluted, you don't need as much to get the job done—so they last a long time, and they're easier on your back pocket (so it'll probably cost you less than what you're paying now to stop poisoning yourself).
There's so much to love about switching from nasty to natural. And there's nothing to lose when you use our products. You can be confident that you're making the right choice for your health and the environment, without the price tag. You're also helping us change supply and demand…that's what we really want! It means people like you can access safe, ethical and better skin care products so you can live happier and healthier.
Go forth and make the switch! You'll love it, we just know it.
---
---
Take our Skin Quiz to discover the best natural skincare routine for you in under 2 minutes.
We have created this short skincare quiz to assist in providing you with the best possible recommendations for your own individualised skincare regimen.
---