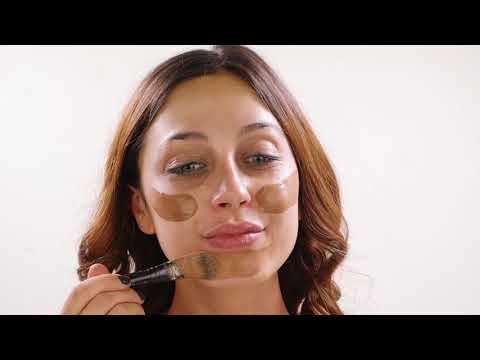 Cacao Revelation Mask - Natural Face Mask
Our organic, deeply purifying Cacao mask draws oil and impurities from the pores, reduces inflammation and promotes skin regeneration to reduce the effects of acne, problem skin and ageing.
Draws impurities from pores and evens skin tone
Packed with antioxidants to treat acne and problem skin
Reduces the appearance of wrinkles and regenerates cells
Smooths and refines complexion
Who knew it was possible to love chocolate more than we already do!
Raw, organic cacao is packed with antioxidants that repair skin and reduce inflammation, promoting healthy cell growth. Combine that with natural clays and organic aloe vera powder and you have a powerful facemask that purifies skin and restores moisture in only 20 minutes!
Water activates ingredients, which is why we have kept our blend dry so you can receive maximum benefits at home, ensuring all the components of our mask are releasing their optimal benefits as soon as they hit your skin!
Made with love in Australia.
Vegan, cruelty free, with no added water or fillers.
Don't just take our word for it, check the reviews below.
50g / 1.76oz
Ingredients
Raw Organic Cacao – packed with antioxidants to repair skin and reduce inflammation, promoting healthy cell growth.
Pink Kaolin Clay – gently stimulates blood circulation and draws oils from pores.
White Kaolin Clay – more than an oil extractor it's rich in calcium, silica, magnesium and zinc.
Olive Leaf – stimulates collagen production and heals the skin.
Myrrh Gum powder – reduces the appearance of wrinkles, regenerates cells and reduces inflammation.
Kaolin (Pink), Organic Cacao Powder*, Kaolin (White), Olea Europaea (Olive) Leaf Extract, Myrrh Gum Powder, Aloe Barbadensis (Aloe Vera) Leaf Juice Powder*, Camellia Sinensis (Camellia) Leaf Extract
Certified Organic ingredients*
How to use me
Take one teaspoon of mask powder and blend with a little water in a separate bowl to form a paste. Apply to your face and neck, preferably using our mask brush, avoiding eye area. Relax for 15-20 minutes then remove with warm cloth. Apply twice weekly or as needed.

This mask is amazing

I have been using this mask for a few years now and it's by far my favourite! It leaves my skin feeling silky soft and smooth. I love it!

clay mask is great

I love using occasional masks and most of them feel a bit heavy. This cacao mask is light and easy to apply. When I wash it off, my skin feels better and looks better. I use it once a week and it is a nice way to regroup. It's refreshing and rejuvenating.

Cacao Mask

This mask smells AMAZING! I used this once a week and skin feels fantastic after using it.

-->