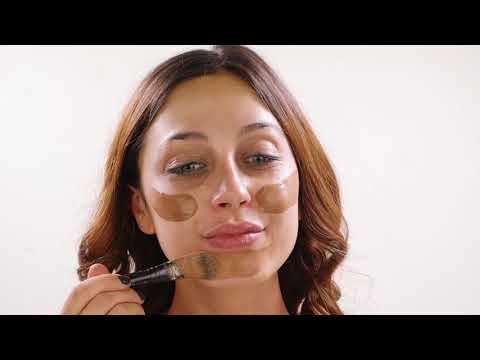 Cacao Revelation Mask - Natural Face Mask
Our organic, deeply purifying Cacao mask draws oil and impurities from the pores, reduces inflammation and promotes skin regeneration to reduce the effects of acne, problem skin and ageing.
Draws impurities from pores and evens skin tone

Packed with antioxidants to treat acne and problem skin

Reduces the appearance of wrinkles and regenerates cells
Smooths and refines complexion
Who knew it was possible to love chocolate more than we already do!
Raw, organic cacao is packed with antioxidants that repair skin and reduce inflammation, promoting healthy cell growth. Combine that with natural clays and organic aloe vera powder and you have a powerful facemask that purifies skin and restores moisture in only 20 minutes!
Water activates ingredients, which is why we have kept our blend dry so you can receive maximum benefits at home, ensuring all the components of our mask are releasing their optimal benefits as soon as they hit your skin!
Made with love in Australia.
Vegan, cruelty free, with no added water or fillers.
Don't just take our word for it, check the reviews below.
50g / 1.76oz
Ingredients
Raw Organic Cacao – packed with antioxidants to repair skin and reduce inflammation, promoting healthy cell growth.
Pink Kaolin Clay – gently stimulates blood circulation and draws oils from pores.
White Kaolin Clay – more than an oil extractor it's rich in calcium, silica, magnesium and zinc.
Olive Leaf – stimulates collagen production and heals the skin.
Myrrh Gum powder – reduces the appearance of wrinkles, regenerates cells and reduces inflammation.
Kaolin, Organic Cacao Powder*, Kaolin (Pink), Kaolin (White), Olea Europaea (Olive) Leaf Extract, Myrrh Gum Powder, Aloe Barbadensis Leaf Juice Powder*, Camellia Sinensis Leaf Extract
Certified Organic ingredients*
How to use me
Take one teaspoon of mask powder and blend with a little water in a separate bowl to form a paste. Apply to your face and neck, preferably using our mask brush, avoiding eye area. Relax for 15-20 minutes then remove with warm cloth. Apply twice weekly or as needed.
Cacao Mask
Smells divine and makes skin feel soft and look clear.
New addition to my weekly routine. I use it twice weekly if I can.
I have mature skin with a lot of open pores around the nose area, but suffer from dry skin everywhere else and this mask doesn't dry my skin out, yet Combats the t zone area as well.
Tip...I find using about a teaspoon of water the ideal amount of water to add, so you get a nice paste... instead of it being too runny.
Pure indulgence
This mask is easy to apply, smells delectable and leaves my skin feeling silky smooth. I really love indulging in applying this and taking 20 minutes to know I'm doing something positive for my skin.
This product makes me look younger
That's enough right! I am slack and rarely if ever go to the beauty therapist. This product is stunning. Easy to use and in 15 minutes my skin looks amazing